ORGANIZATION + CULTURE
Don't resume. Reinvent.
How do you adapt in a moment when it's harder than ever for your teams to be inventive? We've designed a 4-week sprint to help you to assess - and amplify - your team's capacity to imagine and innovate.
As we start to re-emerge from quarantine, one thing is clear. This will not be a return to how things were. It will be an encounter with a new era.
Customers and employees will have reset their priorities and needs. Businesses will face unprecedented constraints and challenges. It will be a time of deep change that will demand reinvention. And critical to this will be your team's capacity to reinvent.
Which will be its own challenge. Most teams have been fragmented, and feel isolated and overwhelmed. Most are anxious and uncertain – two of creativity's greatest foes.
So in a moment when you'll need to be at your most inventive, it will be harder than ever for your team to invent.
The equation for team capacity for innovation is simple: reduce anxiety and create a culture of ideation and invention. We use this framework to assess the biggest barriers to invention on your team and design solutions that you can put to work, fast.
A shared vision that transcends commercial gain
COVID19 impact:
The ambiguity and uncertainty of the CV19 era make a shared purpose more vital than ever.
Key questions:
How has your vision changed?
Is your team clear on what matters most?
Roles + responsibilities:
Clarity on each team member's role in achieving the vision
COVID19 impact:
CV19 conditions have shifted many employees' day-to-day roles
Key questions:
How have roles shifted?
Is there unnecessary duplication of work?
Expectations of - and support for - innovation:
Strong signals from leadership that innovation matters
COVID19 impact:
It will be important to remind team members that reinvention, not return, is what's needed
Key questions:
What are you celebrating?
What are you measuring?
How are you communicating?
Explicit understanding of power and decision making
COVID19 impact
Team members should understand where they can input on decision making to contribute in the new conditions
Key questions
How do you make decisions?
Who has authority and why?
How can you delegate and empower more?
Clearly defined objectives and boundaries for the work
COVID19 impact:
To avoid teams feeling overwhelmed, breaking down the discrete components of the effort is essential
Key questions:
What parts of the work do we form teams around?
What is "in bounds" and "out of bounds"?
What is distracting us from the task?
The necessary spaces and technologies to support the team's joint and solo work
COVID19 impact:
CV19 has propelled us into a remote-first world where technology is critical to collaboration
Key questions:
How do we work together?
What tools and infrastructure do we need to do this work?
The ability to share ideas without fear
COVID19 impact:
In a moment when new ideas are essential, will team members feel able to speak up?
Key questions:
Do team members speak up and disagree?
Is vulnerability welcome?
Our methodology builds from two foundational organizational development strategies: Green and Molenkamp's work on Boundaries, Authority, Role and Task (Green & Molenkamp, 2005) and M. A. West's (1990) work on creating a team climate for innovation.
Don't know where to begin? We're offering consultations to team leaders to do a high-level assessment of where this methodology could help most.
Our 4-week sprint to boost reinvention
Diagnose
Understand your team's capacity for reinvention in this moment 
Define
Identify the barriers to invention you're facing and opportunity areas 
Design
Define the principles and programs that will reinvigorate your team
Do
Support your team in making it real; chart the path to action and impact 
Organizations capable of reinvention derive strength from their leaders, their relationships, and their culture.
The strength of your leaders—their humanity—will shape your culture.
It is more important that ever to lead with empathy, to collect real-time insight and act decisively.
"Leaders who create empathic cultures generate 50% more earnings." (Harvard Business Review)
The strength of the relationships between co-workers—the community—will shape your agility.
Aligned, motivated and energized employees with a strong sense of belonging are the key to propelling your business forward.
"Organizations with high employee engagement and positive coworker relationships have 17% higher productivity" (Gallup)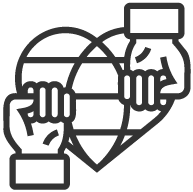 The strength of your organization's culture—your integrity—will shape your resiliency.
It is more essential than ever to rally around a shared vision and values - and what they mean in action and in this moment.
"Employees in a purpose-oriented workplace are 3x more likely to stay with their organization" (The Energy Project)
Our Organization + Culture Practice
We specialize in helping organizations align and ignite action.
Our work focuses on helping organizations become more inclusive through co-creation, collaboration, and community building. We help organizations become more innovative by removing common barriers to creativity like silos, politics, legacy structures and behaviors.
Aligning organizations around a higher purpose that drives strategic priorities and engagement.
Aligning organizational values with behaviors to create a thriving and sustainable organizational culture.
Ensuring that organizations have the right capabilities, structures, processes and tools to drive business outcomes.
Inspiring and motivating team members to engage in transformation efforts.
1:1 leadership support on change leadership, specifically leading with humanity to drive results.