From fashion-led to tribe-inspired
What is the 'rightspace' that reasserts our edge in the global women's sports and apparel business?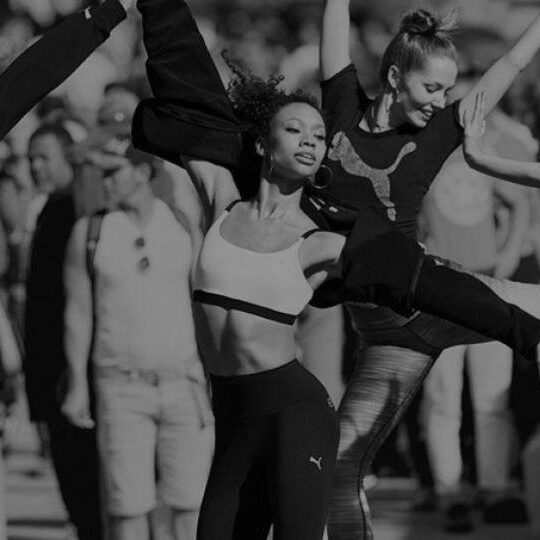 An inspiring muse to guide a brand following its own path
PUMA had always had a strong following among women, but the outsize nature of its celebrity partners had to some extent defined the PUMA Women brand. Product design had been trend-driven rather than audience-led.
The broad demographics of its audience—from 12 to 45—created additional uncertainty about where to focus. The brand needed to rediscover who it was and who it was for, be guided by a persona that could act as a muse, filter and guiding light for all of the brand's activities.
We launched a global segmentation which delivered a large and lucrative segment whose values strongly aligned with PUMA Women's. A multi-country ethnography added color and detail. We discovered that the PUMA woman, regardless of age, is positive and forever adding more to her life. She exercises to release, not to compete. She loves style not for its own sake but to inject joy, endorphins or calm into her day. Her crew—friends or family—are everything to her. This persona created fresh space for PUMA Women whose competitors tend to celebrate struggle, sacrifice and winning at all costs.
The new multidimensional definition of the PUMA woman inspired every aspect of the brand's footprint in the world, around the globe. We defined a new global strategy and approach to reach her that led to:
Products that help support and express her moods, and enable her swiftly to take on everything that's on her plate.
A retail strategy that meets her where she is and incorporates her crew into her path to purchase.
Partnerships, collaborations and activations that reflect her values and equip her to connect more and reach higher.
Ambassadors that embody her spirit and inspire her based on shared values, not just follower count.
A brand that celebrates and recognizes her ambitions, her joyfulness, and the support of her crew and steers clear of empowerment cliches, opening the door for new language in women's sporting apparel.
In 2020, PUMA brought the new approach to life.
Launched the "She Moves Us" campaign focused on inspiring women through a partnership with Women Win, a global women's fund which uses sport to advance gender equality.
Signed Dua Lipa as the new face of the women's business based on shared brand values and June Ambrose, stylist for Missy Elliot and others, both icons at the intersection between fashion, music, culture and purpose.
Announced the Puma Running Spark Change Fund, which supports charities geared toward establishing greater gender equity in the sport of running. 
Design teams shifted to create shoes that are better modelled to female feet for running and soccer.