Revolutionizing the medicine aisle 
How do you create an outsized presence for a new brand of OTC remedies in a crowded category where efficacy is all consumers care about?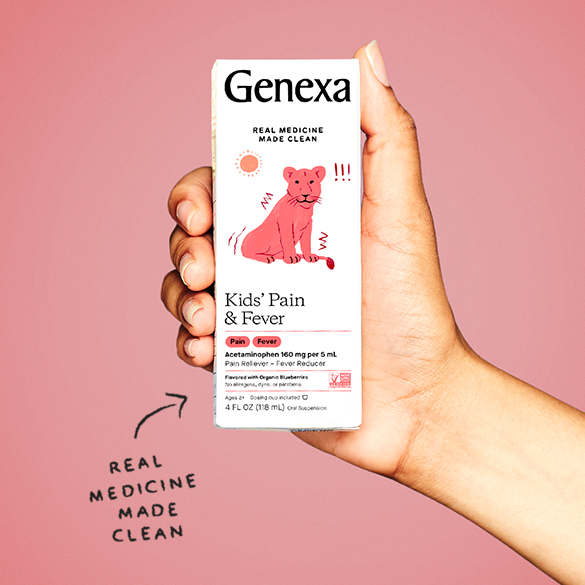 Purpose: Revolutionize the medicine aisle as the refreshingly human clean medicine pioneers by putting people over everything
Genexa is a new kind of pharma company, founded by two dads on a mission to revolutionize the medicine aisle. Their products contain the same active ingredients people need, but without the artificial ones they don't (e.g. dyes, allergens, and chemical fillers).
Genexa came to us at a critical point in their journey. They were about to launch a new line of OTC medicines onto the shelves of mass retailers across the country. We helped Genexa rise to the occasion.
But Genexa's promise — remedies without unnecessary chemicals and allergens — was a new claim for the category that didn't yet resonate. People were mostly concerned with efficacy. They were unaware that their medicine even had additives.
We needed to give people a powerful reason to re-evaluate their current solutions and look for an alternative. We wanted to wake up the OTC category by creating a promise told through language and design that defied the status quo and created a category of one.
Genexa's emphasis on people, not just conditions, unlocked our purpose. We built this to be a brand for real people, by real people — for dads, moms, kids, and grandparents who are experiencing a problem and need a safe solution.
Creating a category of one
Genexa's purpose came to life through every touchpoint. We injected humanity into everything — packaging, website, in-store, social media, paid marketing, and even customer service. This was starkly different from the conventional, condition-first tropes and clichés of the category.
We leveraged people as a channel to bring to life our strategy of putting people over everything. We used an army of micro- and macro-influencers to communicate with their communities.
With these channels at our disposal, we launched the Ditch the Dirty campaign to challenge people's existing beliefs and behaviors in order to spark action and education around the dirty ingredients in many medicines.