Generate more action through research
Generative businesses conduct research and develop insights differently. They optimize for more participants in their system as they make decisions, and importantly, design for action and activation. This allows them to create more value, for more people, more sustainably.
Businesses operate in complex human and social systems. Yet leaders often have to make decisions without a deep understanding of the communities and participants that make up these systems. This knowledge gap hinders their ability to make decisions efficiently with all the clarity they need to get those decisions right.
Just as your business impacts a diverse group of participants, the insights that shape your organization should come from research that takes an inclusive approach. This is intersectional inquiry, the act of meaningfully gathering inputs from a wide range of participants within communities, organizations, and systems to approach inquiry more holistically. It leverages not only diverse perspectives, but the right mix of methods — in-depth interviews to surveys, salons, and moments of co-creation — to arrive at more generative insights.
Intersectional inquiry recognizes the complexities and interconnectedness of communities, and the necessity of representation and participation in solution design. It means incorporating viewpoints from both within and outside of your organization, from frontline staff to senior leadership, from loyal customers to detractors, from partners and vendors to experts and activists within your space. Engaging different stakeholders ensures that insights are actionable later on, drawing from the buy-in generated through collective participation in early stages.
When insights capture the needs, challenges, and opportunities for change in a human system, they become generative: guiding organizations toward more intentional action, propelling both commercial success and social progress.
Finally, to be generative, the outputs of research also need to be designed for action and activation across your organization. Too often, research insights are hidden in long, dry decks or behind the walls of departmental silos rather than broadly shared in easy-to-access, empowering forms. We find that rather than decks, web pages, posters, immersive rooms, or videos do a much better job of engaging teammates up and down the ladder, across functional silos. This builds the generative power of not just shared understanding, but the energy generated by being equipped and inspired rather than just informed.
By practicing intersectional inquiry and delivering its results in accessible, engaging ways, we've found that organizations are able to generate more intentional action – and more value from your investment in insights.
Learn more about our research offering.
Inspiration
→ Using research to co-create the living future of the Kansas City Art Institute – co:collective
→ To Build More-Inclusive Technology, Change Your Design Process – HBR
→ Intersectionality: a critical piece of your service and product strategy – UX Magazine
---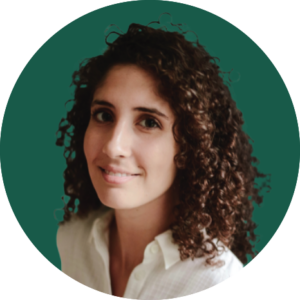 Sarah Fischer
Senior Strategist
Business & Brand
Sarah is a strategist at co: collective where she works with the Brand & Business practice to empower clients as they talk the talk and walk the walk. She has worked as a consultant to Fortune 500 companies, nonprofits, and foundations advising them on sustainability and social impact strategy, storytelling, and partnerships.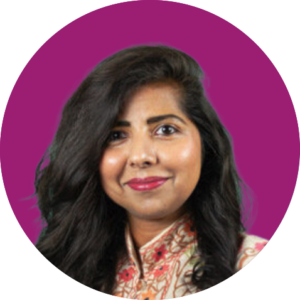 Naqiya Hussain
Strategy Director
Business & Brand
Naqiya is a business and brand strategist at co:, most happy when driving meaningful change at the intersection of social justice, business, and technology. She has led transformative data-driven strategic projects across clients both large and small, spanning iconic arts institutions to Fortune 100 businesses and beyond.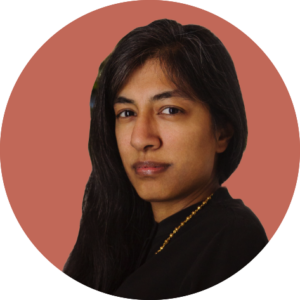 Namreta Kumar
Senior Strategy Director
Experience
Namreta is an interdisciplinary designer who specializes in building intentional experiences. At co: she helps businesses live their purpose by supporting their journey to discover, define and develop products, programs and services.